Malay Culture
Posted on February 27, 2014 by admin in General

MALAY CULTURE

The diverse composition of Malaysia's population is reflected in the food, art, festivals and the customs. The 30 million population of Malaysia are represented by multiple ethnic groups, the largest three being the Malays, Chinese and Indians.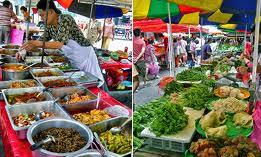 The topic of food never runs dry in Malaysia. There is food available around the clock and plenty of choices at that, too! The fasting month of Ramadhan is synonymous to the food festival during the iftar (breaking of the fast). It culminates on Eid (Hari Raya) where open houses are held for a month. It is now customary to hold open houses for Christmas, Chinese New Year and Deepavali as well.
Any traveler or expat doing business in Kuala Lumpur have to get accustomed to the many public holidays. This is because every state celebrates the birthdays of its Sultan (the royal head of state) in addition to the major festivals and Federal holidays.
Mosque                                                                           Chinese Temple                                                Batu Caves
Religious worship places like the mosques and temples provide feasts to the eyes amidst the modern structures of the concrete jungle in the cities and kampungs (villages). The fusion of the Hindu and the Islamic culture is prominent in the Malay adat(customs), especially in weddings and royal ceremonies.
Malay Songket                  Saree
The traditional baju (costumes) of the different ethnicities, namely the baju kurung, kebaya, saree and the cheong sam set colourful fashion trends. Head gears among Muslim women, too are making heads turn. Ideas for gifts besides the usual pewter and batik.
Silat is the Malay martial art originated from Indonesia. In urban areas, you will have the opportunity to watch it as a cultural performance, sometimes choreographed with traditional dances. On the more modern side of sports, if badminton is your thing, you might just pull it off as being a Malaysian since it's the favourite sport here!
ALS Language is not just a malay lessons for you. We do cover our culture, history to make you know more about. Join us NOW and start learn malay lauguage!